Wee Hour Investment Pvt Ltd
VISION
"Empowering Dreams, Building Futures"
our vision is to be the catalyst for transformative change in the construction and industrial landscape of the Maldives. We aspire to empower dreams by creating iconic structures, fostering innovation, and contributing to the sustainable development of our communities. Through our unwavering commitment to excellence, we aim to build futures that inspire, uplift, and leave a lasting positive impact on the world.
Wee Hour Investment Pvt Ltd
MISION
"At Wee Hour Investment Pvt Ltd, our mission is to deliver exceptional value through precision construction, innovative solutions, and unparalleled service. We are dedicated to:
Excellence in Construction: Striving for excellence in every project, we aim to be the foremost choice for clients seeking quality, reliability, and unmatched craftsmanship.
Innovation and Sustainability: Embracing innovation, we continuously seek eco-friendly and sustainable practices to minimize our environmental impact, leaving a legacy for future generations.
Client and Partner Satisfaction: Prioritizing the needs of our clients and partners, we are committed to fostering lasting relationships based on trust, transparency, and mutual success.
Investing in Our Team: Nurturing a dynamic and diverse team, we provide a collaborative and inclusive work environment that promotes professional growth, creativity, and teamwork.
Community Development: Engaging in responsible corporate citizenship, we actively contribute to the betterment of the communities we serve, creating a positive social impact.
Global Collaboration: Building on our international partnerships, we aim to bring global standards and perspectives to the Maldivian construction and industrial sectors.
Through these principles, we endeavor to be a force for positive change, setting new benchmarks in our industry and beyond."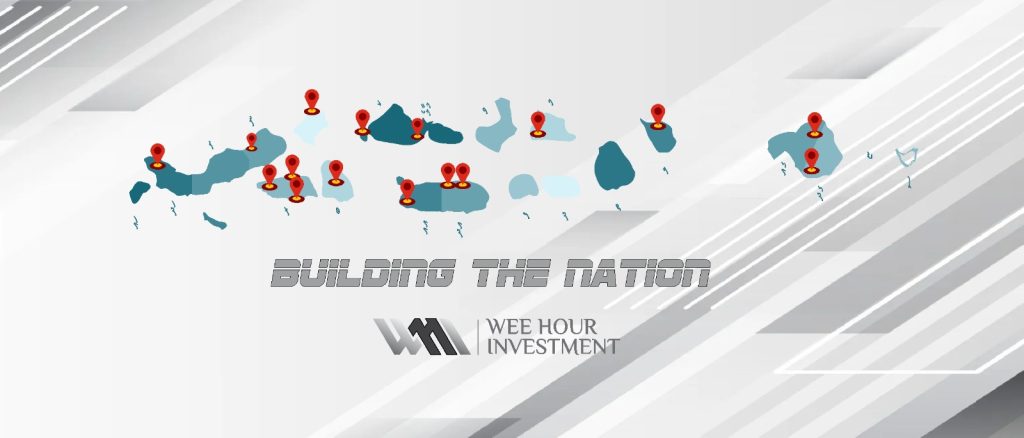 About Us
Welcome to Wee Hour Investment Pvt Ltd
Established in 2012 and registered with the Ministry of Economic Development in the Maldives, Wee Hour Investment Pvt Ltd has earned a strong reputation in the construction and industrial sectors. Over the years, we have diversified our services to cater to a wide range of projects, including government contracts and resort developments. With a commitment to excellence, Wee Hour Investment Pvt Ltd has become a trusted name in the Maldivian business landscape.
Diverse Project Portfolio in the last 10 years
Sustained Growth & excellence and customer satisfaction
We've constructed some of the most govenment school projects
Our philosophy is based on a conceptual approach inspired by vision and design
Construction equipment, engineering, planning and innovation
For more than 10 years, we earned one of the finest reputations across maldives for construction engineering service that achieve our client's vision
We always deliver exceptional and sustainable outcomes for our clients
We work collaboratively to create value through built and natural assets that work in harmony with their surroundings.
We are your trusted manufacturing & engineering partner
We have a
professional team of construction

workers and auditors for your company